Aim of This PageEdit
This page aims to introduce the main game interface and tell you what each button does. As you see below, I've tried my best to give translations of most of the buttons, and I've also grouped them into 6 main groups for easier discussion.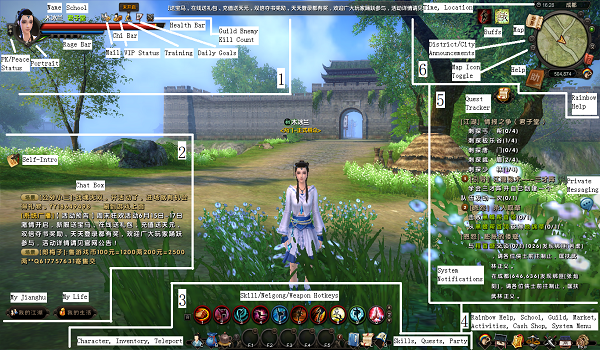 Group 1
Group 2
Group 3
Group 4
Group 5
Group 6

Name

School

Portrait

Health Bar

Chi Bar

Rage Bar

PK/Peace Status

Mail

VIP Status

Training

Daily Goals

Guild Enemy Count

Self-Intro

Chat Box

My Jianghu

My Life

Skill/ Neigong/ Weapon/ Hotkeys

Character

Inventory

Teleport

Skills

Quests

Party

Rainbow Help

School

Guild

Market

Activities

Cash Shop

System Menu

Quest Tracker

System Notification

Private Messaging

Time/ Location

Buffs

District/ City Announcements

Map

Minimap Icon Toggle

Help

Rainbow Help
For more information on each interface, click on them (if they are linked to another page with more information, the text will show up purple.)
There is also this video by aowfan that explains the interfaces quite thoroughly.
Ad blocker interference detected!
Wikia is a free-to-use site that makes money from advertising. We have a modified experience for viewers using ad blockers

Wikia is not accessible if you've made further modifications. Remove the custom ad blocker rule(s) and the page will load as expected.